MY FOR SALE PAGE
34 Ford Stockcar... sell as a roller or various stage of completion.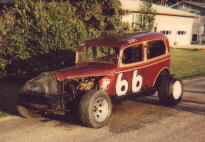 She has a 9 inch rear with 5.14:1 gears, 31 spline mini-spool, aluminium racing seat, 3 inch belts (only 4 years old), parallel leafs on all four corners, and a 12 gallon fuel cell.
Click the text below to view some pics of the car.
Suspension: leftfront.jpg, leftfront2.jpg, leftrear.jpg, rightfront.jpg, rightfront2.jpg, rightrear.jpg
Interior/Cage: battery.jpg, cage.jpg, cockpit.jpg, cockpit2.jpg, fuelcell.jpg
Profile Pics: front.jpg, front2.jpg, leftside.jpg, rightside.jpg, opendoor.jpg, rear.jpg
This car has too much to list. Email gotra66@yahoo.com